Heating
Stay warm with reliable heater service and installation.
The team at David Aaskov & Sons are experts in furnace, heat-pump and boiler installation, repair, and maintenance. We understand how to work with new, existing, and specialty systems to maximize HVAC operational efficiency, providing you with reliable comfort without high utility bills. Let us service your air conditioning unit to:
Set it up properly to evenly cool all rooms in your home or office
Set up heat zones to reduce energy costs
Prevent potential "heat-loss" issues before they become costly problems
Optimize your heater installation and settings for lower utility bills
We are well versed on all types of heating systems including heat pumps, gas furnace, and electric heating systems. We also have installed and serviced many hybrid systems, combining a heat pump and a gas furnace to give you the most efficient heating solution for your home.
---
Energy Bill Savings Tips
Ensure your heating system is warming your home at optimum levels all year round. Here's how you can save:
Routine heater/furnace inspections
Sealing of vents and duct work
Proper duct, window, vent and home insulation
Adjustment of gas pressure
Routine cleaning and servicing of HVAC motor, exchangers and coils
Implementation of zoning systems
Maintaining a clean blower
We service HVAC units for both residential and commercial properties. If you find your heating system is having any of the problems listed above or you would like to set up a site visit, call David Aaskov & Sons today at 893-0333 or schedule your appointment online with us today!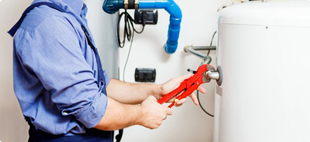 Common Heater Problems
Heater/furnace not working or turning on
Can't regulate temperatures
Certain rooms or offices are too hot or too cold
Heater air smells funny
Smell gas or like something is burning
Funny noises from my heater/furnace
Thermostat is not working properly
The heater fan is always running