Boilers
David Aaskov and Sons are here to help you with your boiler needs
Oil and Gas Boilers are efficient and effective. We would like to provide you with some information to help in the decision making process of your heateing system.
Pensotti Boilers are reliable, efficient heat when you need it. The choice for the majority of modern homes.
The choice of a new heating system should strike a careful balance between initial cost and future fuel savings. Improvements in current systems offer significant savings over those installed only a decade ago. Often times those savings can be eliminated by an excessively high initial cost. Pensotti's combination of high efficiency and competitive pricing position the boiler among the industry's heating value elite
Pensotti's line of European Style Boilers offers the best value for today's heating dollar. Europeans have long been exposed to high energy costs and as a result they have been on the cutting edge of high efficiency system development. Pensotti's tradition of offering low water content, high efficiency, cast iron boilers combining European styling with the latest in worldwide technological improvements, has been enhanced with the Quatech DK2 Series.
The Quatech DK2 boiler is a powerful source of heating for all of the modern zoned heat delivery systems including baseboard, in-floor radiant, steel panel radiator and free standing radiators. The efficient three pass design of the Pensotti Quatech boiler coupled with the Hydrolevel Fuel Smart Control will maximize system efficiency by constantly adjusting the boiler water temperature to best match the conditions inside the home. Reducing temperature swings, increasing fuel savings and providing years of reliable comfort.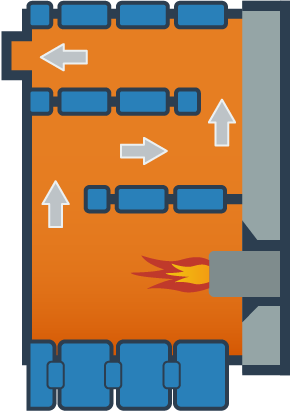 ---
The three pass design of the Quatech boiler insures a more efficient system by have the flue gases travel a longer path. The flue gases can then heat a larger surface area and reduce heat loss up the chimney saving you money.